Bee Zuzu (scroll down for English pattern)
Ar
ı
Zuzu (türk
çe tarif için alt kısıma geçin)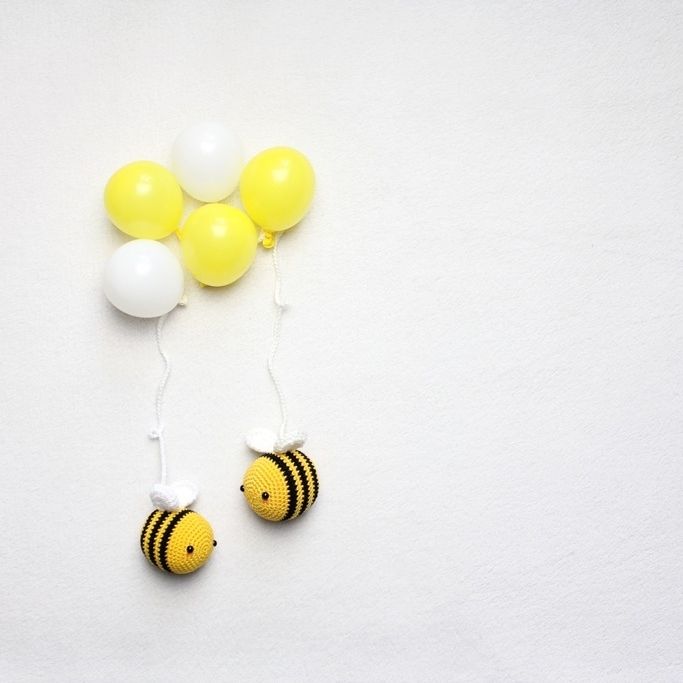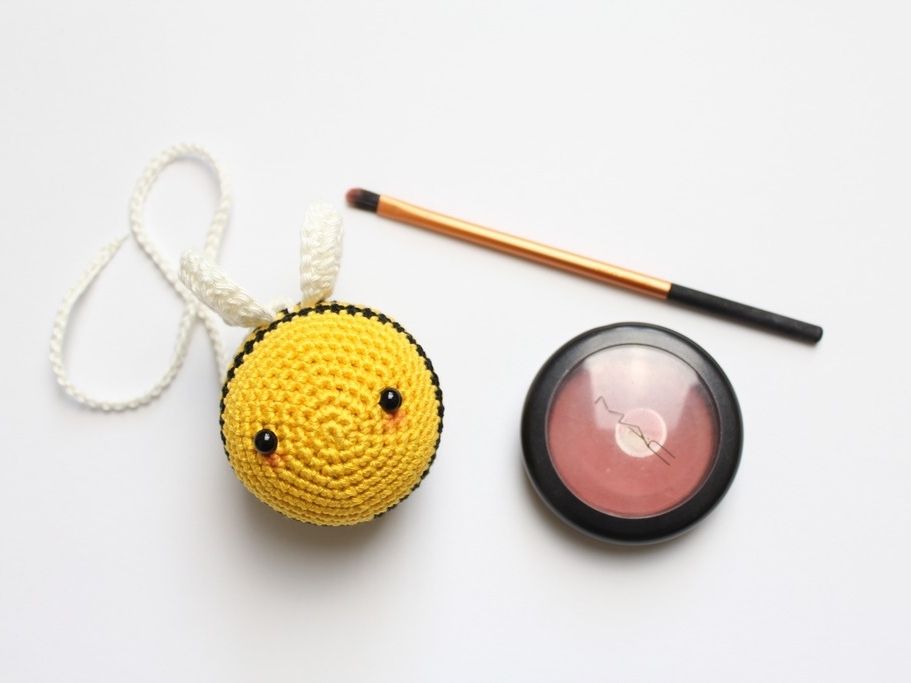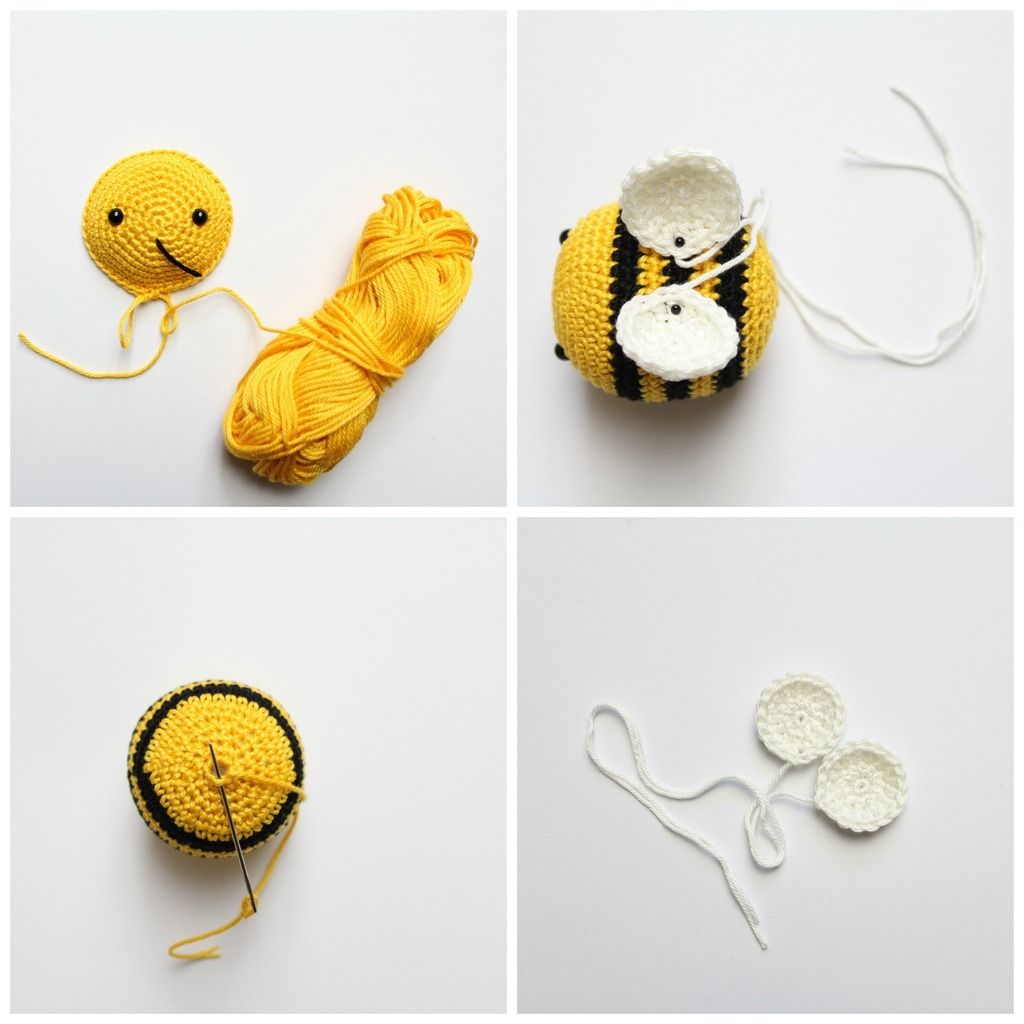 heute gibt es die Anleitung für meine kleine Biene, die ich vor genau einem Jahr gehäkelt und euch auf Instagram gezeigt habe. Finde sie besonders als Fensterdeko sehr niedlich.
Viel Spaß beim Häkeln! #beezuzu !
-
Crochet Minis oder Catania von Schachenmayr in gelb (Garn A), schwarz (Garn B) und weiß/natur (Garn C). Ihr könnt selbstverständlich auch ein anderes Garn verwenden.
-
2,5mm Häkelnadel oder eine passende Nadelgröße zu deinem verwendeten Garn
-
2 schwarze 6mm Sicherheitsaugen
( ): Nummer in Klammern ist die Anzahl der Maschen am Ende der Runde
* *: Wiederhole die Instruktion x-mal oder häkle bis zum Rundenende
-
Wir beginnen mit einem Fadenring.
-
Die Runden werden nicht mit einer Kettmasche geschlossen, es wird in Spiralrunden gearbeitet.
-
Markiere den Rundenanfang mit einem Maschenmarkierer oder einem Stück Faden.
-
Du kannst etwas Rouge für die Wangen deiner Amigurumis verwenden. Meine Puppen tragen ´Pinch Me` von MAC ;)
Los geht´s mit Garn A (gelb)
8-10 *42 fM* (3 Rd) (42 M)
Befestige nun die Sicherheitsaugen zwischen der 5. und 6. Runde. Der Abstand zwischen den Augen beträgt 14 Maschen.
Farbwechsel zu Garn B (schwarz)
11-12 *42 fM* (2 Rd) (42 M)
13-14 *42 fM* (2 Rd) (42 M)
15-16 *42 fM* (2 Rd) (42 M)
17-18 *42 fM* (2 Rd) (42 M)
19-20 *42 fm* (2 Rd) (42 M)
Hier ist der Zeitpunkt, um deine Biene fest mit Füllwatte auszustopfen.
Schneide das Garn ab und schließe die restlichen sechs Maschen.
Weiter geht´s mit den Flügeln und Garn C. Die Flügel werden in geschlossenen Runden gearbeitet.
Schneide das Garn ab, schließe den Kreis mit einer Kettmasche und nähe die Flügel an die richtige Position.
Nun ist es Zeit, deine kleine Biene lieb zu haben!
-----------------------------------------------------------
so here it is, my pattern for the bee I´ve crocheted one year ago and shown you on Instagram. I like her flying at my window.
Happy crocheting! #beezuzu !
-
Crochet Minis or Catania by Schachenmayr in yellow (yarn A), black (yarn B) and
-
2,5mm
hook size or a size that fits your yarn
-
2
black 6mm security eyes
dec: single crochet decrease
inc: single crochet increase
( ): number in parentheses indicates the number of stitches at the end of the round
* *: repeat instructions x times or round out
-
We start with a magic ring. Do not join the rounds, work in a continuous spiral.
-
Use a stitch marker or a piece of yarn to mark the beginning of a round.
-
Use a bit of blush fort the cheeks of your bee. I always use ´Pinch Me` by MAC for my amigurumis ;)
Let´s start with yarn A (yellow)
8-10 *42
sc
* (3 rnd) (42)
Place the security eyes between the 5th and 6th round. The distance between the eyes is 14 stitches.
Change color to B (black)
11-12 *42 sc* (2 rnd) (42)
13-14 *42 sc* (2 rnd) (42)
15-16 *42 sc* (2 rnd) (42)
17-18 *42 sc* (2 rnd) (42)
19-20 *42 sc* (2 rnd) (42)
Stuff the body firmly and continue as you go.
Break your yarn and close the remaining six stitches.
Now it´s time for the wings, use yarn C (white/cream). Join rnd with slst.
Break your yarn and leave enough to sew the wings in position.
Now it´s time to love your little bee!
-----------------------------------------------------------
bir yıl önce örd
üğüm ve size Instagram´da gösterdiğim minik arının tarifini paylaşıyorum bugün.
Türkçe pattern yazmayı bırakın daha önce türkçe tarif okumuşluğum bile yok, umarım sorun yaşamadan anlayabilirsiniz.
Sevgiyle örün! #beezuzu !
-
Sarı (ip A), siyah (ip B) ve beyaz/krem (ip C) iplik. Ben Schachenmayr`dan Catania kullandım.
-
2 adet
siyah 6mm güvenlik göz
Kısaltmalar/
türkçe karşılığı
:
slst: tığıya ip dolamadan yapılan s
ı
k iğne/ilmek kayd
ı
rma
( ): parantezin içindeki sayı sıra sonunda olması gereken ilmek sayısını gösteriyor
* *: işlemi x kere tekrarlayın veya sıranın sonuna kadar
örün
-
Sihirli halkayla başlıyoruz ve sıraları ilmek kaydırmadan spiral şeklinde örüyoruz.
-
Başladığınız yeri kaybetmemek için bir parça iplik kullanarak sıran
ı
n başını işaretleyin.
-
Arının yanakları için biraz allık kullanabilirsiniz. Tercihim MAC´ten ´Pinch Me` ;)
İ
p A ile başlıyoruz (sarı)
8-10 *42
sc
* (3 rnd) (42)
Gözleri beşinci ve altıncı sıranın arasına takın. Gözlerin arasındaki ilmek sayısı 14.
İpi B rengine değiştir (siyah)
11-12 *42 sc* (2 rnd) (42)
13-14 *42 sc* (2 rnd) (42)
15-16 *42 sc* (2 rnd) (42)
17-18 *42 sc* (2 rnd) (42)
19-20 *42 sc* (2 rnd) (42)
Arıyı iyice elyafla doldurun ve bitene kadar bu işlemi sürdürün.
İpi kesin ve kalan altı ilmeği iğneyle kapatın.
İp C kullanarak kanatları örüyoruz ve s
ıraları slst ile bitiriyoruz
.
İpi kesin ve kanatları gövdeye dikmek için yeterli ip bırakın.
Şimdi arınızı sevme zaman
ı
!
Liebste Grüße

♥ Love ♥ Sevgilerle